I have been in the business world for a few years now and have been on my own for a while as well. I have come across a few tips and tricks that can help you step up your business game.
Why?
By doing these simple things, you are guaranteed to make stronger connections and potentially get more business from that.
In the world of business and entrepreneurship, relationships are so important. Either they become your client or they will refer people to you. In another article, I mention how to write a rejection letter professionally in order to not burn bridges.
Doing these simple things will guarantee that you will maintain bridges and potentially build even more.
If you would like more information on steps to build your business and free tools or budget friendly programs, check out Build a Business eCourse.
Keep to your meetings
One of the easiest ways to step up your business game is keep your meetings. One of the biggest things I see all the time are entrepreneurs missing meetings. This might be by accident or they really didn't put a lot of effort into it as they could have.
I have been on the receiving end of missed meetings, but I also have seen many people who comment about missed meetings.
One woman posted in a Facebook group that she missed two planned meetings with her client and she was hoping they would give her a third chance. I personally, would not. How can you miss two planned meetings?
I also had a potential client postpone a meeting with me four times and always at the last minute. The fifth time we were supposed to meet she didn't email me and proceeded to stand me up. She owned her own marketing agency and I was going to help her with some of the work. I might have sent some business to her, but now, why would I?
Keep your meetings.
If you would like to schedule a complimentary discovery call with Marinella to talk more about business or your business specifically, head over to the contact page!
Respond timely to Step Up Your Business Game
Another big complaint from entrepreneurs is that the people they hire don't respond back to their emails in a timely manner. This can be annoying especially when a deadline is coming up.
Nowadays, with data and emails on our phones, it takes two seconds to send an email as acknowledgment or confirmation. This doesn't mean you need to respond at night or during the weekends, but respond in a reasonable time.
Ask Clarifying Questions
Another easy step in how to step up your business game is ask clarifying questions. Many of my clients have commented how they appreciate my clarifying questions. It shows that I am trying to make sure I understood what they are looking for and that I actually am listening or reading what they said/wrote.
This can work with entrepreneurs hiring help. Ask as many questions as you can to determine the fit between you and the actual scope of work the person can supply you.
Don't be afraid to ask questions. It will only help.
Always have more details than "necessary"
This is in regards to contracts and proposals. The more details you provide the better as there will be little to no miscommunication when it comes to payment and scope of work.
Whenever you think you have wrote enough and have spelled out all the details enough, do more. This will step up your business game immensely.
Apologize when you made a mistake
One of the best advice I can give is to apologize when you make mistakes. This shows your self-awareness and accountability. I once had a miscommunication with a client and when she wrote back to me less than happy, I responded to the effect of:
"I am sorry for the confusion. There seems to be a miscommunication. Let me make the corrections to this project."
I apologized, but not in a self-deeming way, and offered to fix the situation.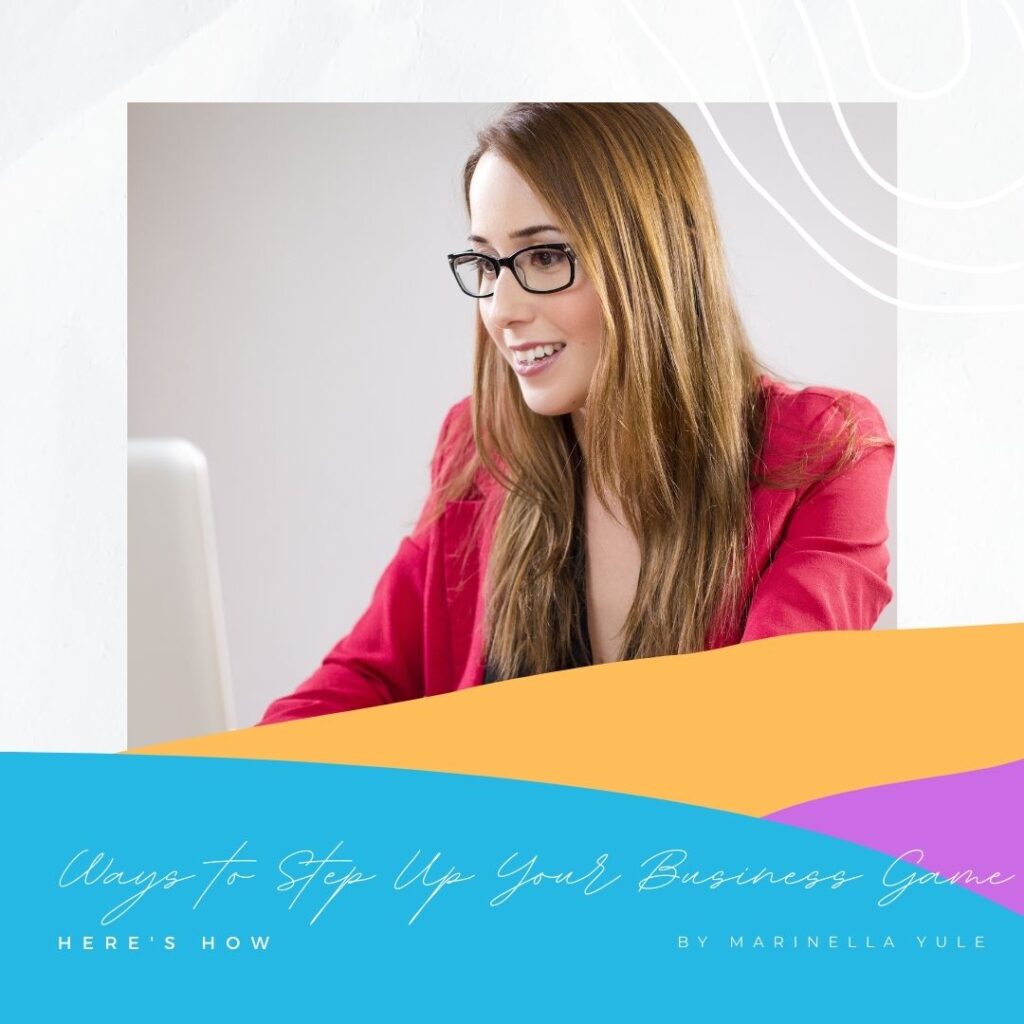 I hope my experience and observations help you step up your business game. If you are looking for more help building up your business, feel free to send me an email and we can get started!
Be sure to keep an eye out for the Build a Business eCourse! This will help you conquer your business goals! The course will dive into the different aspects of building your business online from discovering your target marketing to networking to SEO to invoicing and making contracts. Sign up for the newseltter for more tips and special deals!