What is a one stop shop marketing agency? This is someone, a consultant, or a full fledge company that does all the different aspects of marketing.
What is the difference between this and hiring a specialist? There are a variety of benefits to hiring a specialist in one area. They supposedly know a lot about that one area.
There is also some benefits in hiring one person that can handle multiple things under one contract.
In this article, I will dive into the reasons that you need a one stop shop marketing agency. If you would like to learn more about building and growing a business while learning what potential employees you could hire will do for your company, check out Build a Business eCourse.
Only One Person at a One Stop Marketing Shop
There is only one person you need to deal with at a one stop shop marketing agency. The likelihood of having a miscommunication error among the team is less because it is just you and the one person.
If you hire multiple people, say a copywriter and a graphic designer, those two will have to communicate with each other directly or through you or have a group call. This can be bothersome and inefficient.
Knows Your Business Already
By hiring a one stop shop marketing consultant, when new tasks come up or you would like to assign new tasks you will be able to give it to the same person who already knows your business. Giving new tasks to a new hire or additional people might suck some of your time in training them of the specifics of your company.
A one stop shop is an asset to you and your company!
A One Stop Marketing Shop Knows How the Pieces Fit Together
You know how everything fits and flows together! However, wouldn't it be also amazing if the person you hire to promote your business also knows the in's and out's? Having your marketing professional be a one stop shop enables them to know the different intricacies of your business. From SEO for your blog writing to social media strategy to the copy on those and your website.
Copy and Graphics Match
Copy or writing is another form of art. Every writer has their own voice and style. Even if you have a brand book and copy guidelines, it might be hard to fully capture the original writer's style and wording. OR, if you have a blog writer and a copywriter for social media, they won't write in similar ways because they are two different people.
As mentioned above, having multiple people manage social media such as a copywriter and then a graphic designer, those two will have to discuss what each post will convey. And even then, if there are words on the graphics, the designer might have added it in without the copywriter's knowledge or the writer decided to change the caption due to a new trending hashtag.No need to Hire a Specialist for One Thing
Many businesses hire a blog writer and THEN hire a SEO specialist to help update the blog articles. With a one stop shop, when you hire one marketing professional, you hire a blog writer AND a SEO specialist; therefore, the blogs have SEO implemented from the beginning. Which is perfect for SEO best practices anyways.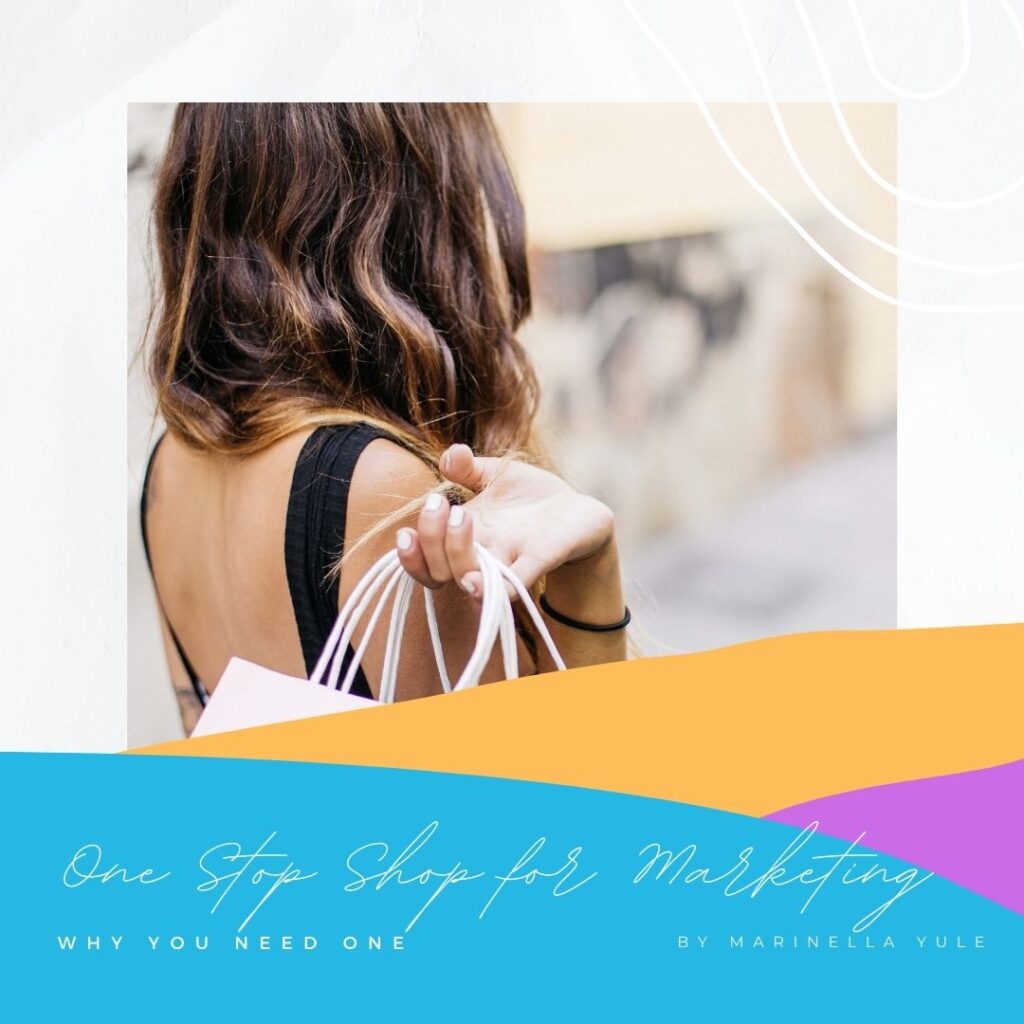 Let's chat further about how Marinella Yule Marketing Consultant can provide you different aspects of marketing to build your business further! Book a complimentary discovery call today!
Be sure to keep an eye out for the Build a Business eCourse! This will help you conquer your business goals! The course will dive into the different aspects of building your business online from branding to SEO to marketing to networking. Sign up for the newsletter for more business tips and special deals!