I recently was supposed to have a complimentary discovery call with an art gallery where we would talk about a social media strategy. Unfortunately, the woman who scheduled the call decided to ghost me.
I was super excited to chat with her because I had never talked with an art gallery before, or rather, someone who runs an art gallery.
I researched them and stalked their social media account to learn more about what they do, but also on how I could improve their social media and; therefore, get them more followers and sales for them.
Alas, I wasn't able to use my research to help them, but why waste good research? I decided to share my strategy notes (keeping their name private) and my steps to help you!
One thing to note: These notes are for this particular art gallery. Each marketing strategy needs to be molded to fit the needs and goals of the business and their target market. Feel free to book a complimentary discovery call with me today to see how we can get you your perfect strategy!
If you would like more information on building and growing your business with free tools or budget-friendly programs, check out Build a Business eCourse!
Find the Target Market of the Company
My first step to create a social media strategy is to look up the website of the company I will be assisting, in this case, the art gallery.
I went through all the different pages including their Terms and Conditions and their shipping policy because, to my surprise, they ship all over the world.
Why did this matter?
This helps me determine target market. There are some aspects of the target market I am not sure of such as age range and gender, but for the most part I could guess the age range.
How I did that was go through their product listings. Each piece of art had a price on them. The prices ranged from 1,000 to 20,000 and maybe more. Normally, 20 year old's don't have 20,000 lying around to spend.
The price range gave me an idea that the target market is more older adults and definitely adults with more discretionary income.
Where to Implement the Strategy
For my second step to create a social media strategy, I tried finding their social media platforms. This particular company had their Instagram and Facebook listed on their website.
However, as I was looking around their website, I came across their blog and on certain blog articles they had an embedded video from YouTube. After closer inspection, I found that it was their YouTube channel. I then watched a few of their videos.
I saw that these videos were not posted on Instagram TV (IGTV), which I made note of.
In regards to Instagram, I realized they posted the exact same on Facebook so I busied myself with looking through their Instagram feed.
I did this on my computer which showed me the number of likes per post and comments. I scrolled from posts published in 2018 till present day and saw it was a bit all over the place. Some posts had hashtags and others didn't and some had full on captions to barely any captions.
They had a decent follow count, almost 20K, but the pictures posted within the last year was not even 10 percent. They were averaging around 30 to 40 likes per post with no comments.
I looked more in depth at the captions and realized there was no call to action. I will get to this later on.
The also had limited Instagram stories and they weren't particularly engaging.
Creating the Social Media Strategy
My next step to create a social media strategy was to then think of what was missing.
Going back to the target market of high discretionary income and older adults, I thought of Pinterest. Pinterest is more of a woman platform, but it also caters to stay at home mothers and wives. Often retired women are present on the platform.
I also thought of how art is a visual piece and just like Instagram, Pinterest showcases pictures and videos.
A bit about me: my pet peeve is inefficiencies. When we can be efficient in our content creation the better!
With the new IGTV and videos on Pinterest, there are now 3 platforms you can use to showcase your videos. You spend all this time and money on the video, use it well!
Break down the videos into little clips and post on Pinterest, break the video down into 2 (if the full video is really long) and post it on IGTV.
Remember, YouTube is more of a search engine rather than a social media platform. Which this, you can link to your YouTube video through Pinterest as well as your blog.
In Addition to the Social Media Strategy
This step in how I create a social media strategy has more to do with blogging and SEO rather than social media, but it is tied together anyways.
You can create blogs about videos you posted or create your own blog articles with SEO. What is SEO? Easier explanation: the keywords that you input into the article that enables it to be found on any other search engine like Google.
This will help people find your site more easily. Plus, once you create these articles you can then link to the different articles through Pinterest or YouTube (in the description box) or Instagram (link in bio).
On top of this, in regards to Instagram, I would have recommended to this art gallery to create a linktree. Please see my article on how to create a linktree on your own website why it is better than through another program.
This linktree would enable them to have multiple links through their just one link in bio on Instagram.
Creating the Content from the Social Media Strategy
Now that I decided what social platforms I want to use and how to be efficient in my content creation, now I would be creating a content calendar for them.
This step is more after the contract is signed, but I would have a list of ideas that I would want to discuss with them in order to formally establish a content calendar.
Once this step is complete, then it would be actually creating the content!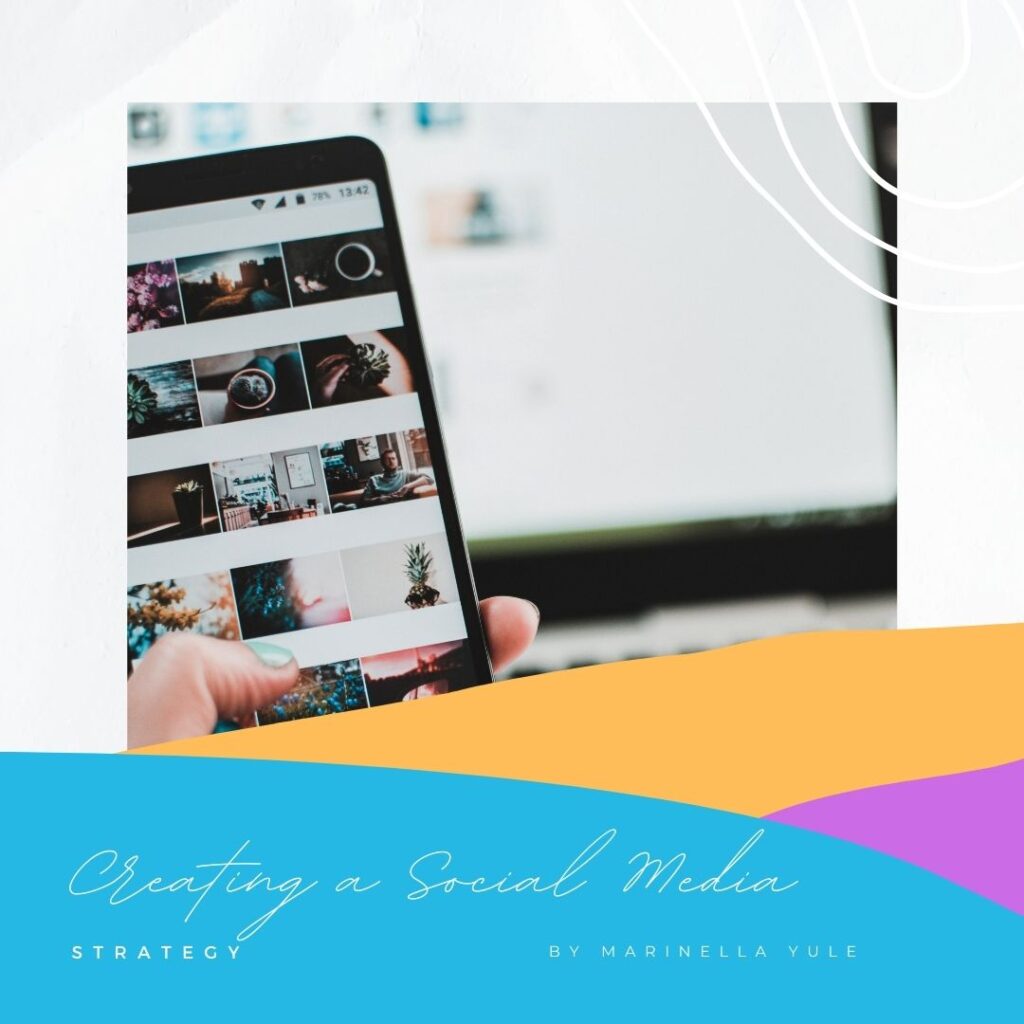 I hope this article helped you in understanding the social media strategy process and some thought processes a marketer goes through in preparation for a complimentary call or before they market your business. Feel free to schedule your complimentary discovery call with me to jump start your marketing or social media strategy!
Be sure to keep an eye out for the Build a Business eCourse! This will help you conquer your business goals! The course will dive into the different aspects of building your business online from target markets to building a website to SEO to marketing. Sign up to receive our newsletter for more business tips and special deals!