What is the difference between a marketing agency and a virtual assistant?
People nowadays are looking for a Virtual Assistant more and more.
What is a Virtual Assistant?
A Virtual Assistant (VA) is someone that is similar to a secretary or personal assistant, but online and virtually! They help in a wide range of tasks from organizing emails to customer service to some marketing tasks. The upside to Virtual Assistants is that they are usually cheaper than a marketing professional, consultant, or agency.
Due to more and more business owners looking for marketing help and for a cheaper cost, entrepreneurs are turning to Virtual Assistants.
Here are some reasons how marketing agencies and virtual assistants differ and what you need to think about before hiring one or the other.
If you do decide to hire one, check out Build a Business eCourse. This course can help you understand what your potential new employee will be doing and enable both of you to have a more effective conversation about the tasks!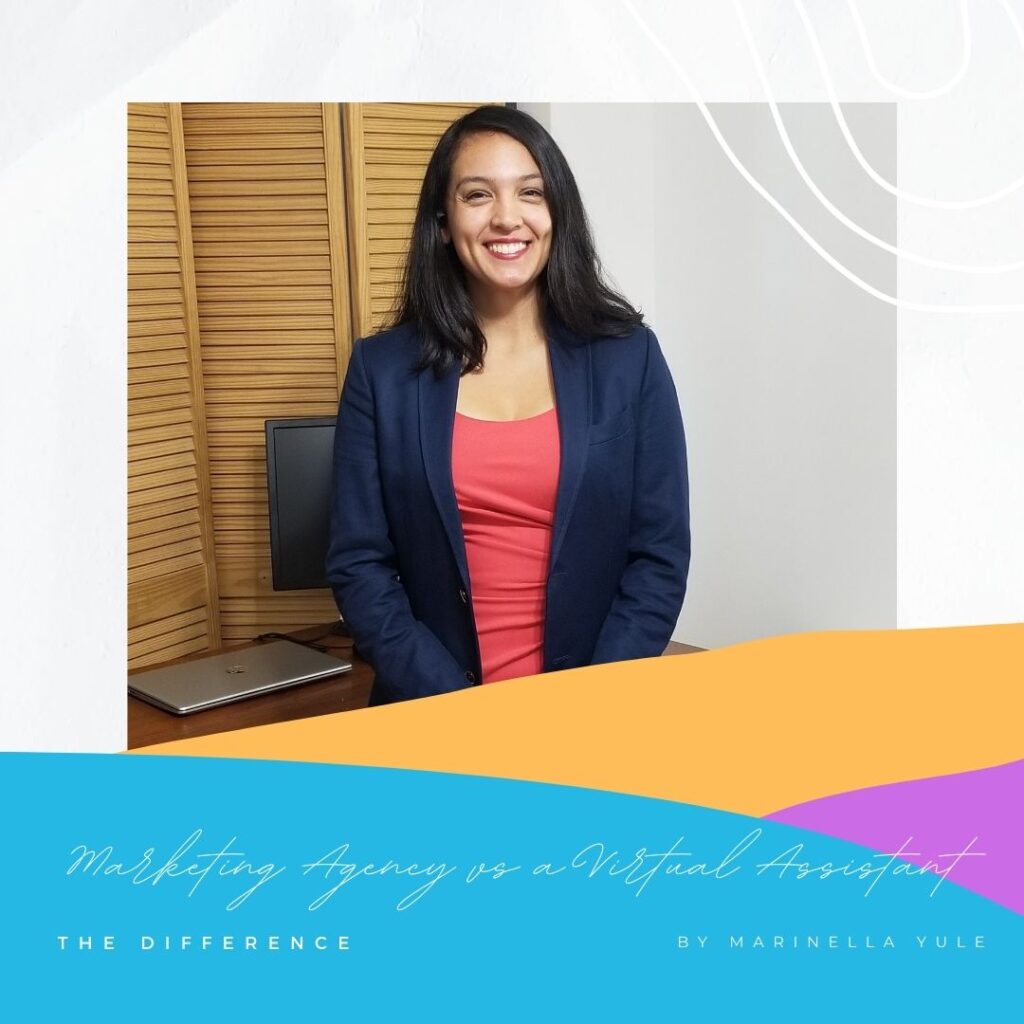 A Marketing Agency is More Marketing Focused
Marketing Agencies are more marketing focused. Many entrepreneurs are looking for assistance in just marketing tasks. Marketing agents probably don't offer email organizations or customer service when responding to your potential clients. However, with the marketing tasks, they know what they are doing and won't need direct supervision or game plan. They are able to create one that best suits your business.
Virtual Assistants are very smart and know their stuff. But, their stuff tends to be more email organizations, customer service, and social media media posting when they are told what and when to post. Not all, of course, but many. If you have a lot of more clerical tasks, then a Virtual Assistant is the way to go. If you have more marketing tasks, consider a marketing agency.
You are Paying for the Thought Process
One point that needs to be brought up is the cost of a marketing agency versus Virtual Assistants. Virtual Assistants tend to be more budget friendly. However, marketing agencies come with a lot of marketing experience and background which justifies the higher costs.
It comes down to this question:
Would you like to hire someone who can contribute great ideas that are backed by data or someone who needs direction and is more of a support team member rather than a partner?
When looking into hiring a team member, partner, supporter, etc, look into that person's experience and education in order to see what will be a good fit for what you are looking for.
You Get More Ideas for Your Money
Further into the costs, marketing agencies are always thinking of new ways to market your business efficiently and effectively. This is their bread and butter and most, if not all, marketing agencies, dream of new marketing strategies and new marketing content.
We can't help it.
Even if you might be paying per hour for your marketing consultant, I guarantee you, at least for my own marketing agency, your marketing consultant is working more than what they are charging you.
Further, due to a higher costs, marketing agencies probably don't have many daily tasks for their clients. Efficient and effective marketing agencies will have their content scheduled and prepared in order to have enough time between due dates to accommodate all clients. At least, that's how it is for my marketing agency.
Virtual Assistants tend to be hired for more daily tasks. With a more budget friendly pricing, they might need to take on more clients to fill their own financial needs. This could lead them to being busy every day as they go from client to client and not have time for you specifically that day or week.
From Strategy to Content Creation to Implementation: a Marketing Agency vs a Virtual Assistant
Marketing agencies are an agency. They know how the different pieces come into place. They create the strategy, create the content, and then schedule and post the content at the best times for your business.
A Virtual Assistant can do this as well, but often they only offer to their clients, or their clients only need them to do, content creation and or implementation. Not many Virtual Assistants can do all three.
Often, hiring multiple people can be more of a hassle than what it's worth. It is possible to hire a marketing consultant for preparing a strategy and then giving it to someone else for content creation and then your Virtual Assistant for the implementation, but your VA might not fully understand or there might be miscommunication among the different pieces.
The more hands that are on a project, the higher the likelihood that there will be a problem. Diversity is good, but when files are being moved around via the internet, things can happen. Files can be corrupted, emails can be lost, or files can be accidentally deleted.
For many small marketing tasks, there is no difference between a marketing agency and a virtual assistant. But, if you are looking for more specific marketing tasks or more expertise, a marketing agency, consultant, or professional is the best way to go.
Let's chat in a complimentary discovery call on how Marinella Yule can help further your business goals!
Be sure to keep an eye out for the Build a Business eCourse! This will help you conquer your business goals! The course will dive into the different aspects of building your business online from branding to building your website to SEO to marketing.
Sign up for the newsletter to receive more business tips and special deals!